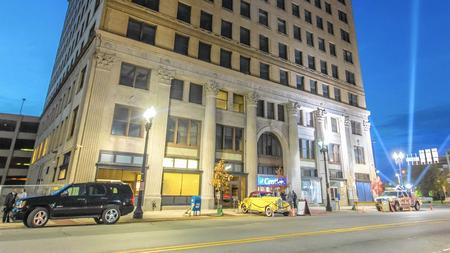 Click on above photo for drone flyover (2)
Office
Typical office and meeting space within the building
About office & meeting space at 504
Click on above photo for drone flyover (1)
We are now executing the planning and financing of the phase II reconstruction of the property to upgrade the buildings facade, MEP, elevators, roof and HVAC systems. The structural integrity of the building is solid, however the aging infrastructure requires a complete overhaul. 504 Broadway is a historic building, erected to its current size in 1927 and thus qualifies for Historic Tax Credits which will be utilized as a portion of the equity stack in the financing of the improvements of the building. The 504 Redevelopment team is committed to improving the condition of the property for the existing and future tenant base. 504 Redevelopment LLC has a managing partner responsible for managing the daily operations of the property and the tenant leases. Please veiw our gallery of typical office space within 504 below. You can also visit our Leasing page to learn more about how to lease office space within 504 Broadway. For an aerial perspective of "Block 504" please visit the aerial drone videos through the photos below.
504 Redevelopment LLC is an Indiana Limited Liability Company established in 2013 as a special purpose entity owning and managing the originally named Gary State Bank Building recently named the "Centier Bank Building" located at 504 Broadway, Gary IN 46402. The 504 Redevelopment LLC team has more than 30 years of combined commercial real estate development, real estate financing, owner representation, project management and construction management experience providing us the confidence to own and manage the 504 Broadway property.

504 Redevelopment recently completed phase I of the 504 Broadway property

inclusive of demolition and improvements to the property

.